This article contains good and sufficient information and is one of 6 excellent articles on this Wiki.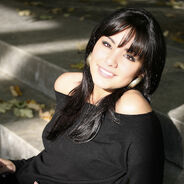 Sarah Riani
is a singer from
France
and was born August 8, 1983 in Lyon (France) of a Moroccan father and a mother of Algerian origin. Both her parents are singers and she has loved singing since her childhood. In 2005, she entered
Nouvelle Star
(The french verision of
Pop Idol
). She didn't win, but the show helped her career and she got signed by the french lecord label Bombattak Recordz. She got famous in 2008 with the songs
Intouchable
and
Miroir miroir
and for featuring the french rapper Brascos song
D'une blessure á l'autre.
Her debut album will be released soon.
Eligible to participate for
External links
Edit
References
Edit
Ad blocker interference detected!
Wikia is a free-to-use site that makes money from advertising. We have a modified experience for viewers using ad blockers

Wikia is not accessible if you've made further modifications. Remove the custom ad blocker rule(s) and the page will load as expected.