Ourvision Song Contest 4



Contest

Edition no.

4

Participants

24

Location

Berlin, Germany

Dates

Semi-final 1: July 27, 2011
Semi-final 2: July 30, 2011
Final: August 2, 2011

Winner

Timeline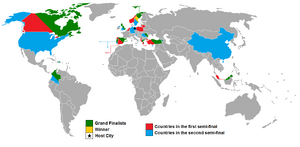 Ourvision Song Contest 4, often referred to as OVSC 4, was the 4th edition of Ourvision Song Contest.
It was held in Berlin, Germany. 24 countries participated in the contest. There were two semi-finals with 12 countries in each and 7 countries from each semi-final qualified for the final, making it 14 countries in the final. The winner was Eric Saade feat. J-Son with the song "Hearts in the Air", representing Sweden.
Gulcin Ergul from Turkey was added to the OVSC Hall of Fame after participating in this edition.
| Award | Recipient |
| --- | --- |
| Theme | Eurovisión 2014 |
| | |
| | |
| | |
Debuting users
Edit
Semi-final 1
Edit
| Draw | Country | Artist | Song | Place | Points |
| --- | --- | --- | --- | --- | --- |
| 1 | Portugal | Tolmachevy Sisters | Shine | PSA | PSA |
| 2 | Germany | Paula Seling y Ovi | Miracle | 11 | 14 |
| 3 | Grecce | Valentina Monetta | Maybe | 1 | 109 |
| 4 | Moldova | Pollaponk | No Predjudice | 9 | 31 |
| 5 | Russia | Teo | Cheesecake | 8 | 40 |
| 6 | Belgium | The Common Linnets | Calm After The Storm | 2 | 102 |
| 7 | Finland | TWIN TWIN | Moustache | 10 | 24 |
| 8 | Ireland | Mei Finegold | Some Heart | 7 | 56 |
| 9 | Iceland | Ruth Lorenzo | Danzing In The Rain | 3 | 92 |
| 10 | Swithelands | Tijana | To The Sky | 6 | 60 |
| 11 | France | Elaiza | Its A Right | 4 | 90 |
| 12 | Poland | Molly | Children Of The Universe | 5 | 78 |
Semi-final 2
Edit
| Draw | Country | Artist | Song | Place | Points |
| --- | --- | --- | --- | --- | --- |
| 1 | Malta | Suzy | Quero Ser Tua | 3 | 88 |
| 2 | San Marino | Tanja | Amazing | 10 | 27 |
| 3 | Montenegro | Donata y Cleo | My Slowianie-We Are Slavic | 4 | 78 |
| 4 | Romania | Aram MP3 | Not Alone | 12 | 9 |
| 5 | Austria | Emma | La Mia Citta | 8 | 50 |
| 6 | Albania | Serjet Cetkovic | Moj Svijet | 9 | 35 |
| 7 | Yugoslavia | Mariya Yaremchuk | Tick-Tock | 1 | 109 |
| 8 | Latvia | Conchita Wurst | Rise Like A Phoenix | 5 | 70 |
| 9 | Ukraine | Cristina Scarlat | Wild Soul | 6 | 66 |
| 10 | Monaco | Sanna Nielsen | Undo | 2 | 92 |
| 11 | UK | Tinkara Kovac | Round And Round | 7 | 54 |
| 12 | Armenia | Selbater | Hunter Of Starts | 11 | 18 |
| Draw | Country | Artist | Song | Place | Points |
| --- | --- | --- | --- | --- | --- |
| 1 | Monaco | Sanna Nielsen | Undo | 5 | 114 |
| 2 | Ukraine | Cristina Scaarlat | Wild Soul | 13 | 64 |
| 3 | Swithelands | Tijana | To The Sky | 12 | 67 |
| 4 | UK | Tinkara Kovak | Round And Round | 14 | 58 |
| 5 | Malta | Suzy | Querer Ser Tua | 7 | 98 |
| 6 | Belgium | The Common Linnets | Calm After The Storms | 3 | 128 |
| 7 | Portugal | Tolmchevy Sisters | Shine | 4 | 121 |
| 8 | Yugoslavia | Mariya Yaremchuk | Tick-Tock | 2 | 134 |
| 9 | Montenegro | Donatan y Cleo | My Slowianie-We Are Slavic | 9 | 85 |
| 10 | Grecce | Valentina Monetta | Maybe | 1 | 136 |
| 11 | Iceland | Ruth Lorenzo | Danzing In The Rain | 6 | 107 |
| 12 | France | Elaiza | Its A Right | 8 | 91 |
| 13 | Latvia | Conchita Wurst | Rise Like A Phoenix | 11 | 73 |
| 14 | Poland | Molly | Children Of The Universe | 10 | 78 |
External links
Edit
Video archive on Youtube
Contest page on the official website