Ourvision Song Contest 13



Contest

Edition no.

13

Participants

33

Location

Manila, Philippines

Dates

Semi-final 1: November 6, 2011
Semi-final 2: November 9, 2011
Final: November 12, 2011

Winner

Timeline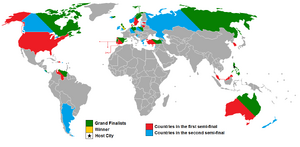 Ourvision Song Contest 13, often referred to as OVSC 13, was the 13th edition of Ourvision Song Contest.
It was held in Manila, Philippines. 33 countries participated in the contest. Philippines automatically qualified for the final. There were two semi-finals with 16 countries in each and 9 countries from each semi-final qualified for the final, making it 19 countries in the final. The winner was Cheryl Cole with the song "Fight for This Love", representing United Kingdom. It was the second time United Kingdom won OVSC.
Countries
Edit
| Withdrawing countries | Returning countries | Debuting countries |
| --- | --- | --- |
| | | |
National selections
Edit
Semi-final 1
Edit
Semi-final 2
Edit
Semi-final 1
Edit
Semi-final 2
Edit
External links
Edit
Video archive on Youtube
Contest page on the official website
Ad blocker interference detected!
Wikia is a free-to-use site that makes money from advertising. We have a modified experience for viewers using ad blockers

Wikia is not accessible if you've made further modifications. Remove the custom ad blocker rule(s) and the page will load as expected.