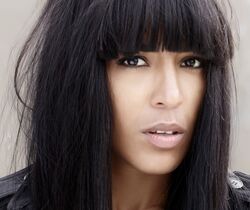 Lorine Zineb Noka Talhaoui, better known as Loreen, is a singer from Sweden. 
Eligible to participate for
Eurovision Song Contest
Edit
She is best known as the winner of the 57th Eurovision Song Contest, 2012, representing Sweden with her song entitled "Euphoria", winning the contest with a final score of 372 Points, the second-highest point total in the contest's history, following marginly behind the highest point total of 387 points made in 2009 by Alexander Rybak who represented Norway with the song "Fairytale".
Ad blocker interference detected!
Wikia is a free-to-use site that makes money from advertising. We have a modified experience for viewers using ad blockers

Wikia is not accessible if you've made further modifications. Remove the custom ad blocker rule(s) and the page will load as expected.