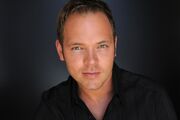 Lauris Reiniks is a Latvian Singer and Presenter. He represented Latvia in the 10th Edition of the OVSC with his song, Banjo Laura. He came 5th in the Semi Final, qualifying, but came 8th in the final. He also represented Latvia in the 7th Edition of the World Music Contest. He came 2nd in the Final.
Lauris Reiniks is the person to ever represent two countries in the the same edition of the Ourvision Song Contest. He represented both Latvia and Lithuania. Only his song for Latvia reached the final.
Ad blocker interference detected!
Wikia is a free-to-use site that makes money from advertising. We have a modified experience for viewers using ad blockers

Wikia is not accessible if you've made further modifications. Remove the custom ad blocker rule(s) and the page will load as expected.