Maria Apetri (better known as Fallulah) is a Danish-Romanian singer and songwriter. Born 1985 in Copenhagen, Denmark.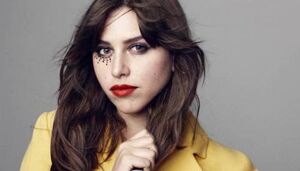 Our Vision Song Contest
Edit
Fallulah participated for Denmark in the eleventh edition of OVSC with her song "I Lay My Head".
She managed to take a 3rd place with 164 points in the second Semi-Final. She qualified to the final, where she ended up in 11th place with 112 points.

Fallulah is making a comeback, when she won in the 7th edition of Danish Music Contest with her song "Out of It". She will compete for Denmark in OVSC 17
Eligible to participate for
More info
Edit
For more information about Fallulah go to the official wikipedia link:
Ad blocker interference detected!
Wikia is a free-to-use site that makes money from advertising. We have a modified experience for viewers using ad blockers

Wikia is not accessible if you've made further modifications. Remove the custom ad blocker rule(s) and the page will load as expected.