Björk is a singer from Iceland. She's one of the most well known Icelandic singers and her record label, One Little Indian, reported that by 2003 she had sold more than 15 million albums worldwide.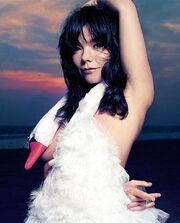 Eligible to participate for
Ad blocker interference detected!
Wikia is a free-to-use site that makes money from advertising. We have a modified experience for viewers using ad blockers

Wikia is not accessible if you've made further modifications. Remove the custom ad blocker rule(s) and the page will load as expected.